If you're planning a destination wedding, the Dominican Republic is an excellent choice. The country has a rich culture and plenty of natural beauty to offer, not to mention some world-class resorts and restaurants. Of course, there are many different places on this tropical island where you can tie the knot; here are some of my favorites:
The Most Famous Beach In Punta Cana Is Playa Bavaro
The most famous beach in Punta Cana is Playa Bavaro. It's a long stretch of white sand and palm trees, with calm, clear water that's perfect for swimming and snorkeling.
Playa Bavaro is located on the northern tip of Punta Cana, which makes it an ideal location if you're staying at one of the all-inclusive resorts in this area (like Secrets St. James or Paradisus Palma Real). If you want to get away from all those crowds though, head south towards Playa El Cortecito–it's another beautiful beach with less traffic!
If You Want To Get Married At The Beach, Playa Bavaro Is The Best Place
Why? Well, there are many reasons why a wedding on the beach can be amazing. For one thing, it's an awesome location for photos–the sand and water will look fantastic in your wedding photos! Plus, if you're having an outdoor reception or ceremony (or both), then having it on a beach gives everyone something else to look at besides your guests' faces when they're bored by speeches or music breaks during dinner time. The main thing is to choose a good Punta Cana wedding photographer who will capture all the memorable moments!
The fact that so many hotels in Punta Cana offer weddings mean that there are plenty of choices when it comes to choosing where exactly yours will take place: whether it's indoors or outdoors; how big or small; whether there are restrictions regarding what type of clothing can be worn (for example some places require long pants/skirts); etcetera…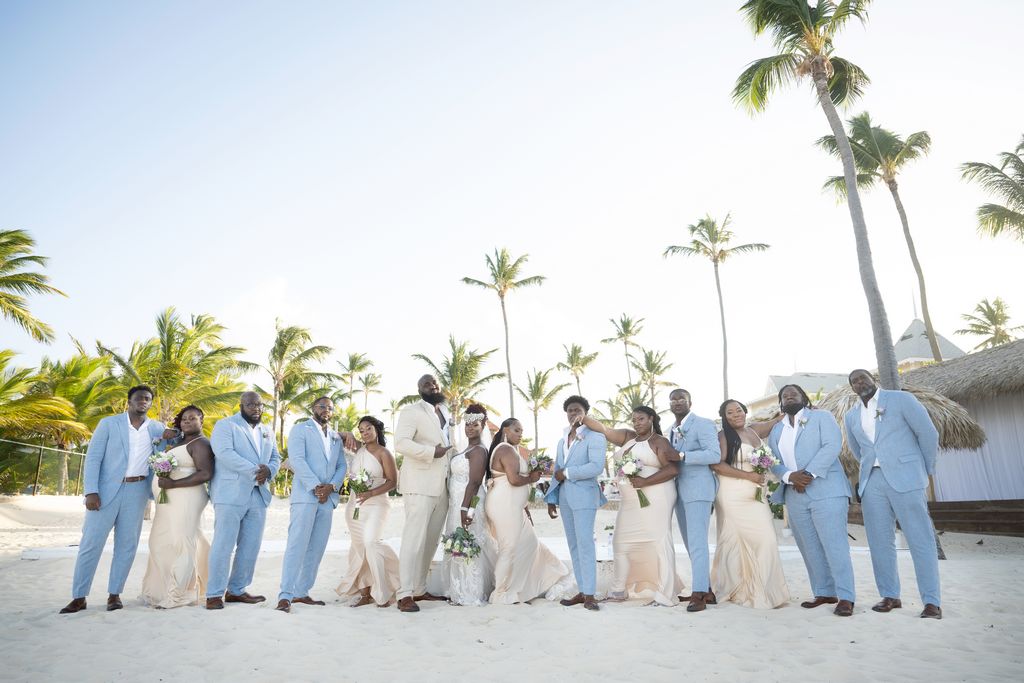 Playa Bávaro Offers Not Only Many Resorts But Also A Wide Range Of Wedding Packages
Playa Bávaro is the perfect place for your wedding. With a wide range of resorts and wedding packages, you'll be able to find the perfect spot for your big day.
The number of resorts in Playa Bávaro is impressive: there are over 20 all-inclusive hotels that offer weddings on their property, including Sandos Caracol Eco Resort & Spa (which was voted as one of the best hotels in Latin America), Dreams Punta Cana Resort & Spa (where you can have your wedding ceremony at their private beach), Barceló Bavaro Beach Hotel & Suites (known for its stunning waterfalls) and more!
If you're looking for great deals on these amazing places then check out our website where we list all sorts of offers from different wedding organizers in Punta Cana so that everyone can enjoy an affordable wedding day without sacrificing quality or style!
You Can Have Your Ceremony On The Beach Or At One Of The Area's Resorts
You can have your ceremony on the beach or at one of the area's resorts. If you want to get married in an elegant and luxurious setting, Punta Cana is perfect for that—there are some wonderful wedding hotels and resorts here that will help make your big day as memorable as possible.
There are also a number of other things to consider when choosing where to get married in Punta Cana:
Wedding packages: if you're planning on having guests attend from far away, it's important to check out all the options available so that everything goes smoothly during this special time in your lives together! You may want some assistance with coordinating travel arrangements so we recommend contacting us first; we'll be happy to give advice on how best to go about doing so!
Wherever You Get Married, Make Sure You Have A Photographer Ready To Capture All The Memories
You'll want to have a p

hotographer in Dominican Republic

and a w

edding videographer in Punta Cana

on hand to capture all the memories. Remember, this is one of the biggest days of your life and you want to remember it forever!

Make sure they can capture those special moments, like when you and your partner say "I do."

They should also be able to capture all the emotions that go into getting married–both yours and theirs!

And don't forget about scenery: Not only will they get great shots in front of an altar or wherever else might be meaningful for you two (like maybe where you first met?), but also around town during photos after the ceremony has ended. After all, there are plenty of beautiful places nearby where you could go for post-wedding pictures if need be!

wedding in Hyatt
There are many places where you can get married in Punta Cana
Punta Cana is a popular destination for couples who want to get married. With its beautiful beaches and great weather, it's easy to see why people choose this location for their nuptials.
The most famous beach in Punta Cana is Playa Bavaro, which has many resorts and wedding packages available at Playa Bavaro. You'll find that there are many places where you can get married in Punta Cana!
Another popular location for weddings on the island of La Romana has spectacular ocean views and historical buildings such as El Parque Central de Bayahibe (also known as Barahibe Park).
Punta Cana is one of the most popular destinations for weddings in the Caribbean, and there are many great places to get married. Whether you want an intimate ceremony at the beach or a big party at one of the area's resorts, there are plenty of options available. You can also have your wedding on another island if you prefer; just make sure you have a photographer ready to capture all those special moments!