Than you are at the right place. As destination wedding photographers and videographers… Nah, it's even better, as wedding photographers and videographers living and working permanently at the destination that hosts over 80 weddings a day in a wedding season, here are our two cents on the subject of how to choose the right wedding dress style for a beach wedding. Although we are not wedding dress designers, nor we are associated with one, having the opportunity to see that many brides in all kinds of Caribbean weeding settings, kind of give us right to say we know what we are writing about.
The most important aspect of your overall wedding look is your wedding dress. The dress is going to set the style for your whole look. So, you'll agree, it is one of the most important task to tick off when you are planning the wedding.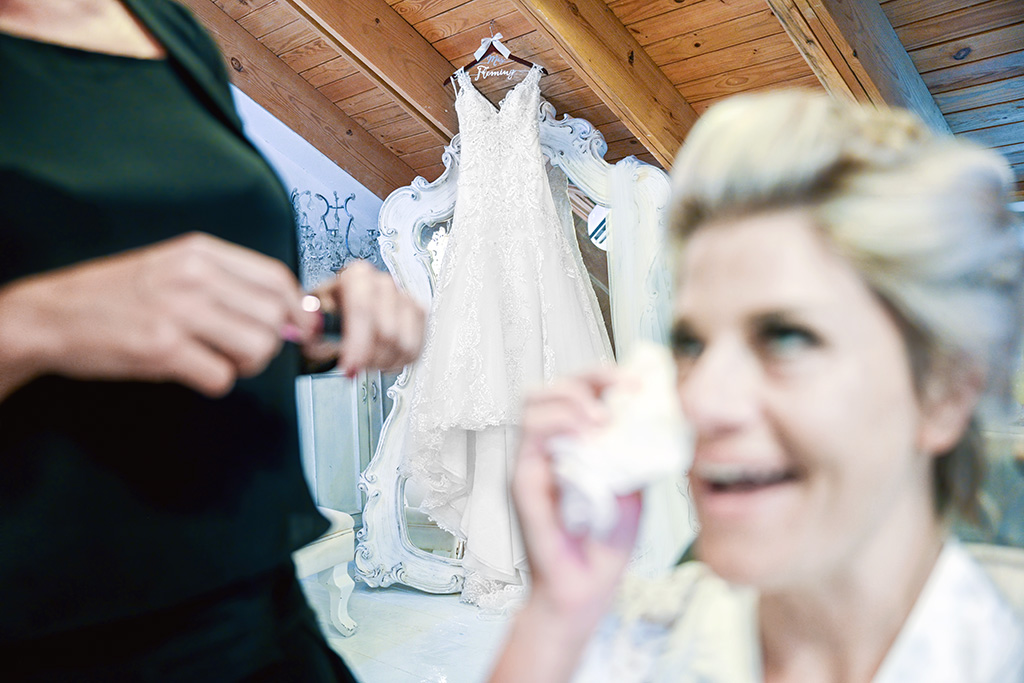 Wedding dress by Sottero and Midgley
If you are one of the recently engaged couples planning a Punta Cana destination wedding on the beach, then you probably did your fair share of Google research and now you are certainly quite confused with restrictive guidelines many, surprisingly even reputable, sites are suggesting.
Let's go over them together:
Choose wedding dress that is made out of lightweight fabrics
This is probably the only one of the tips with which we agree. If you can, then yes, choose chiffon, lace, organza … and allow your body to breathe. But for argument sake, most wedding venues make the ceremonies in the afternoon (some weddings that we photographed last year, had ceremonies even as late as 6pm (see here), so the heat is not too big problem. Plus, on the beach there is ALWAYS light breeze so, unless you are on direct sun at noon in July, you'll never feel the actual heat.
Dress Style
There are many recommendations online for the brides to choose a bohemian wedding dress for their beach wedding ceremony, all together with an explanation that "a beach wedding is a casual event" (?!). Let's dive into this statement some more. If your wedding will be in bohemian style because you like it, then yes, go with the same style wedding dress. But please, for God's sake, do not choose bohemian dress only because you'll have your wedding at the beach! Beach weddings can be glamorous, bohemian or black-tie events if you want them to be! According to their wedding decor design, our brides rocked very successfully many, different wedding dress styles including both fabric and silhouette shapes. There were ball gowns, mermaid and A – lines, from both high-end designers and casual. And they ALL looked AMAZING! Bottom line, you should choose the style of your wedding dress according to your preferences and what flatters your body type the best.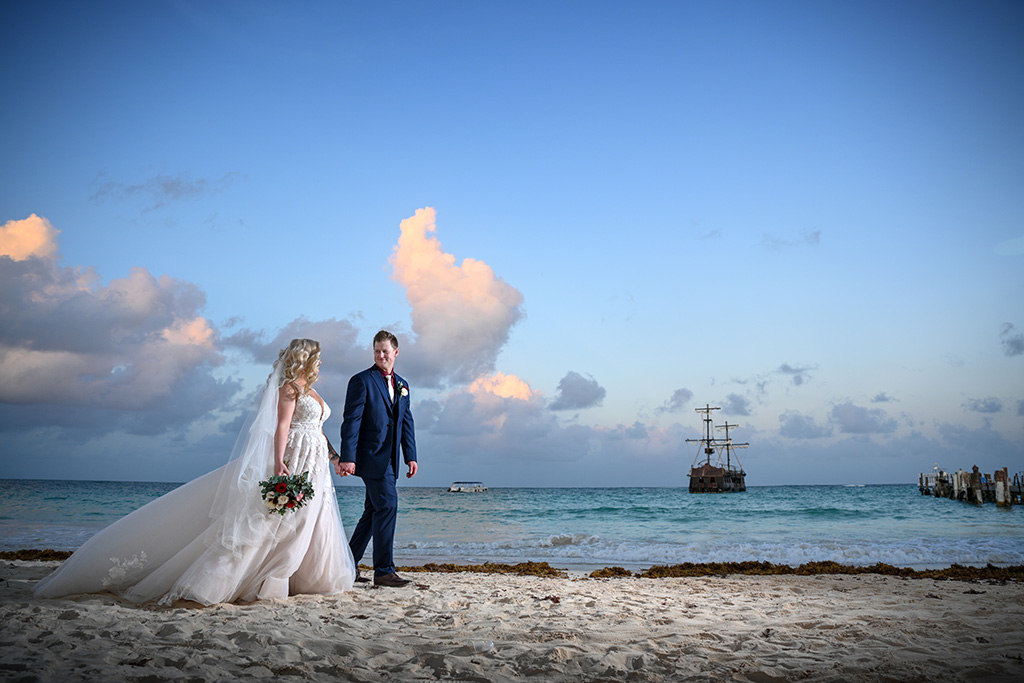 Ballroom wedding dress by Essense of Australia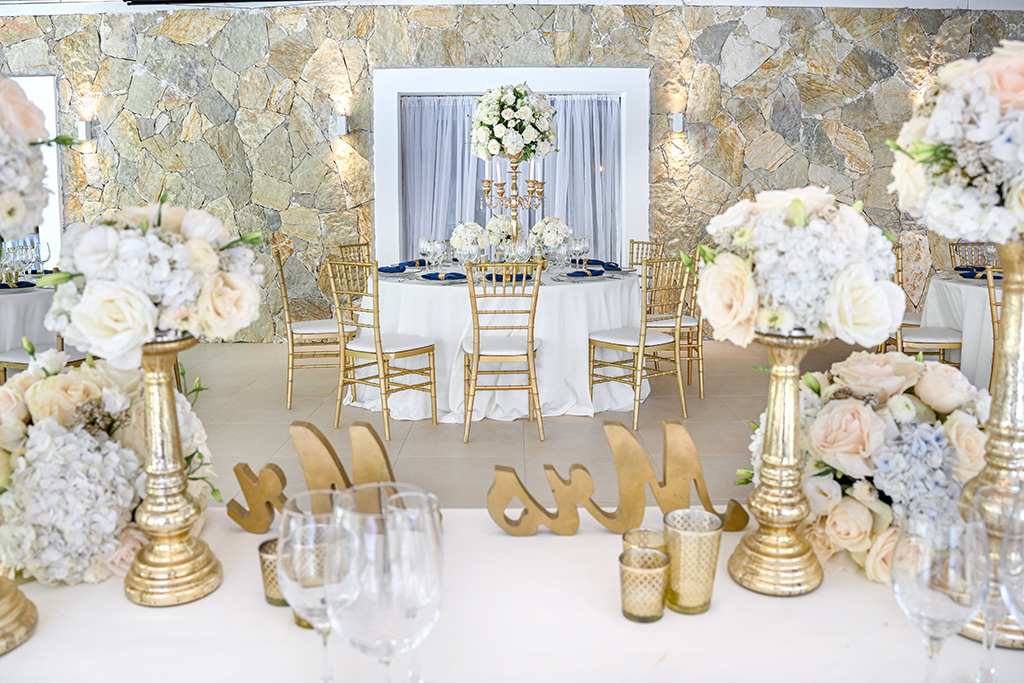 Examples of elegant wedding decor at destination wedding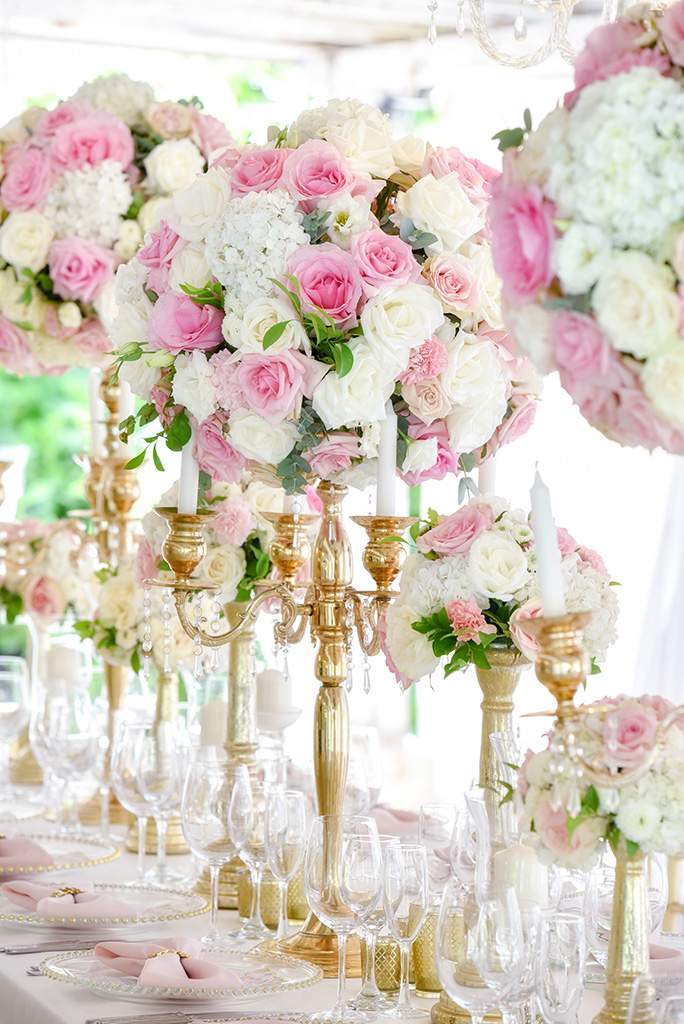 Examples of elegant wedding decor at destination wedding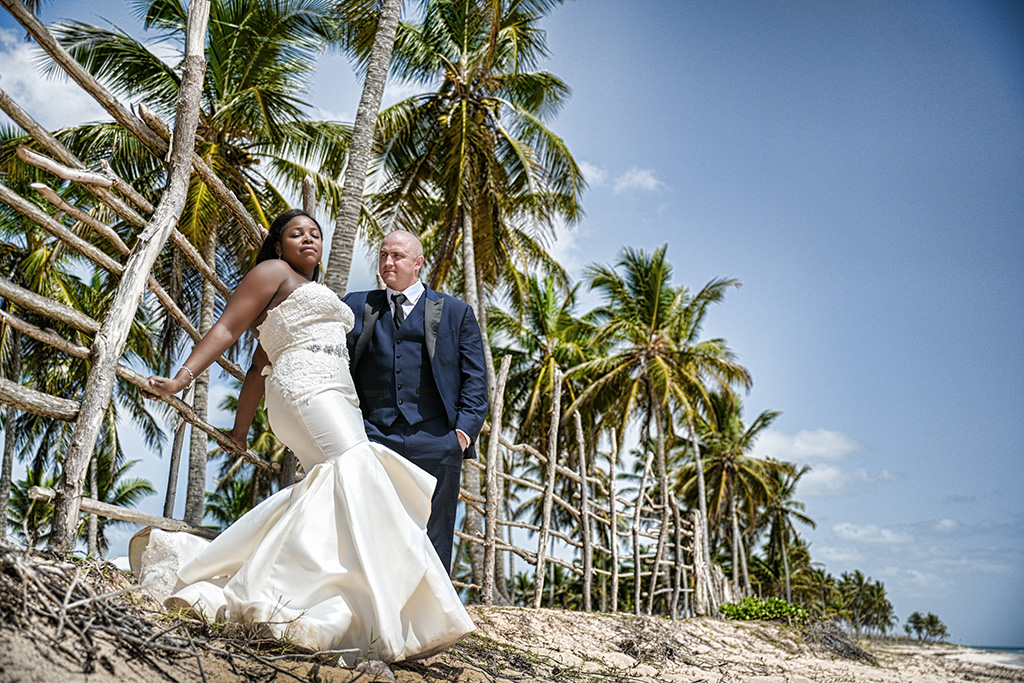 Mermaid style wedding dress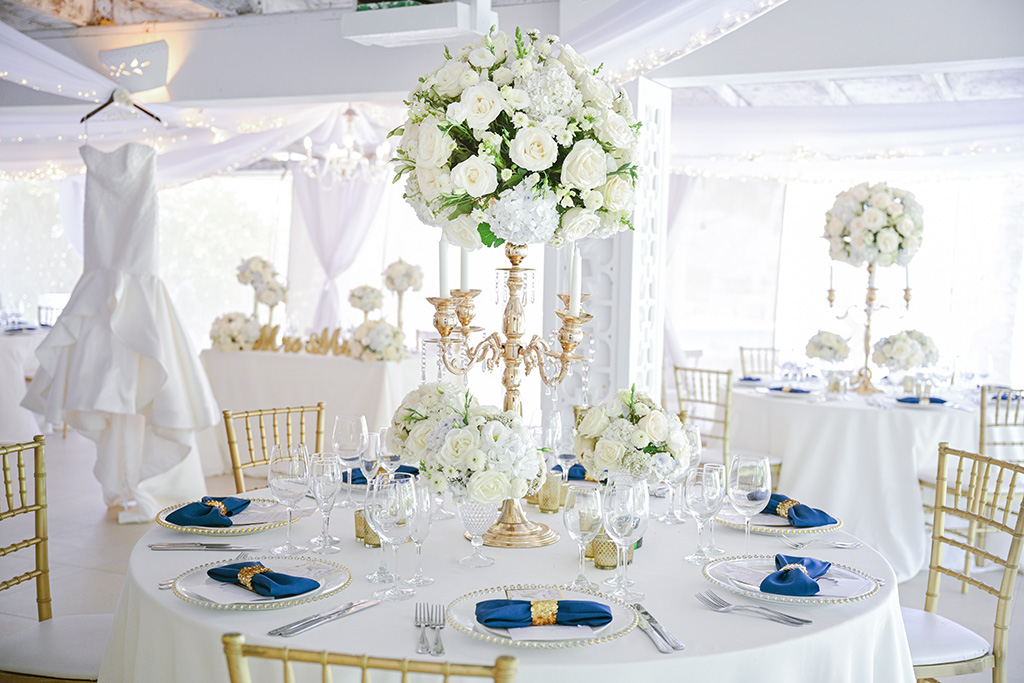 Wedding decor at destination wedding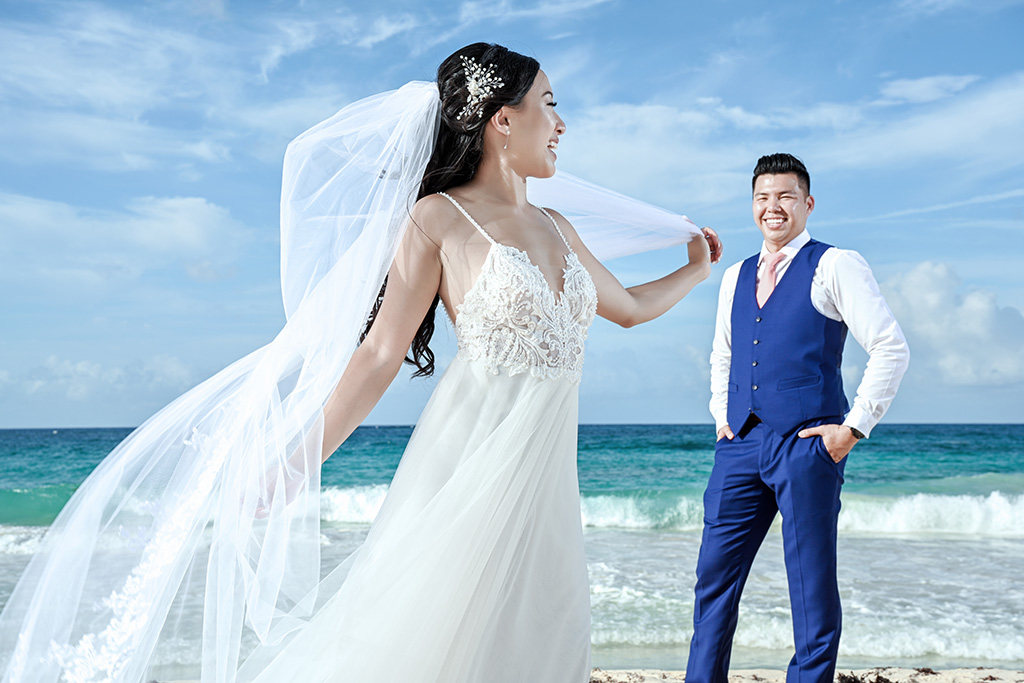 A-line wedding dress by Made with love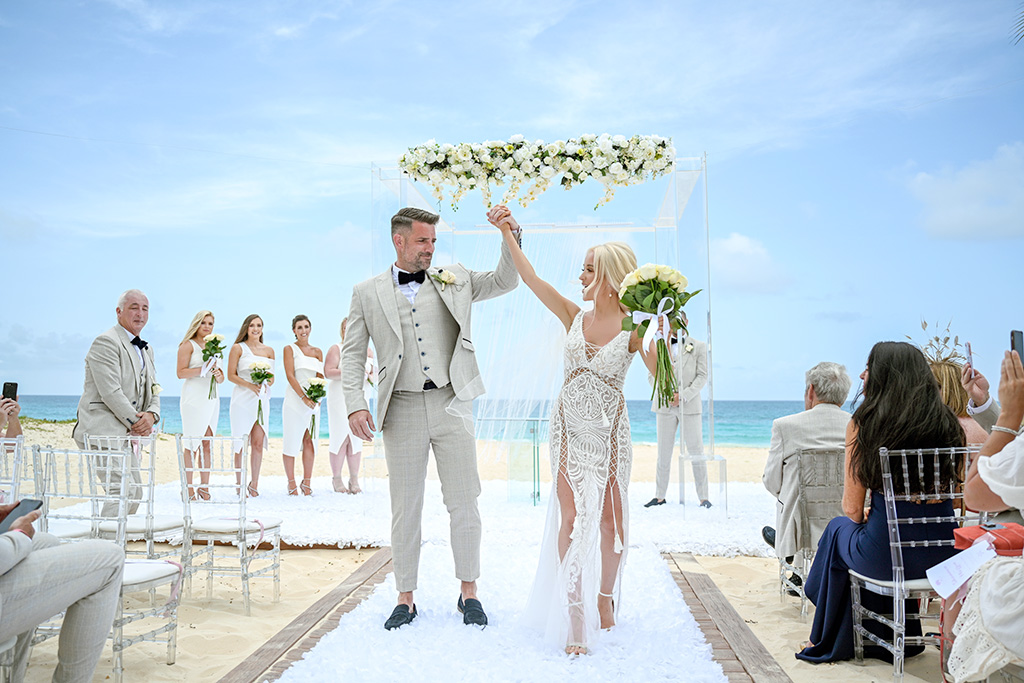 Bohemian wedding dress by Riki Dalal
Wedding decor at destination wedding
Sheath Wedding gown by Anais Annette
3. Dress length
In my 15 years of experience as a professional wedding photographer, I think I saw short wedding dress two times only. And there were the times when I did weddings almost every day. I think this in itself is quite self-explanatory. Don't get me wrong, there is nothing wrong with short wedding dress if that is your cup of tea, but do not feel obligated to go scouting for short wedding dresses because beach is the place where you'll exchange your vows.
To sum it up, yes, for destination wedding, long is ok.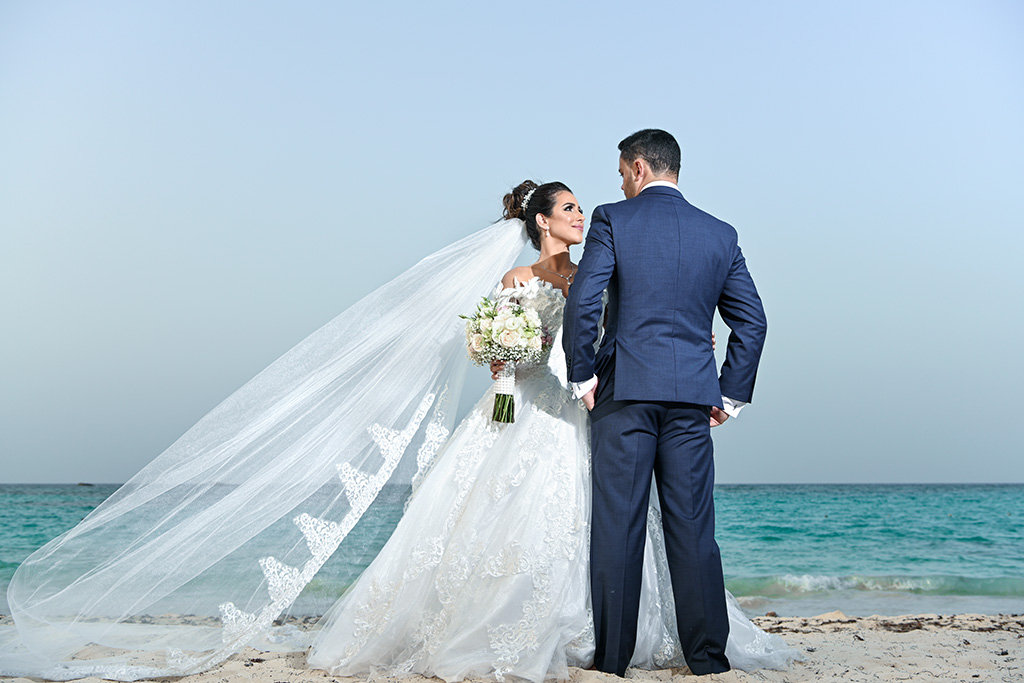 Wedding dress by Luciana Vieira – Dalu Atelie
Sand doesn't stain. Train may catch up along some dry seaweed which can be cleaned easily. Also, all wedding venues in Punta Cana take pride in their locations, so beaches where the ceremonies are held, are cleaned frequently.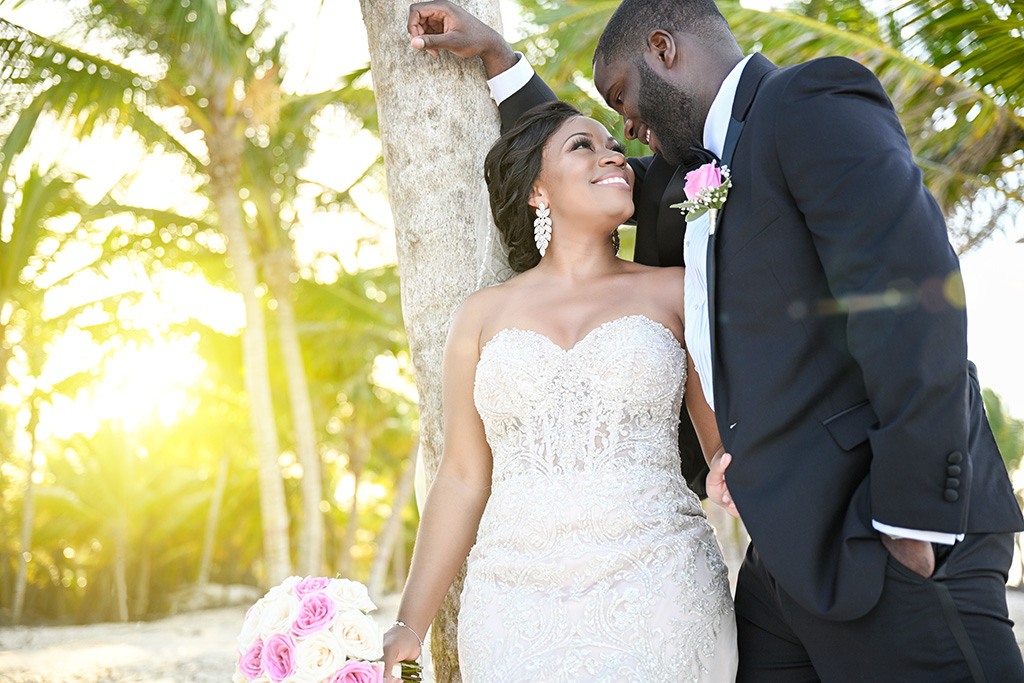 If you are thinking about a wedding dress with a train for your Punta Cana destination wedding, that is absolutely doable. Our brides had dresses without train, with Sweep Train, Chapel Train all the way to Cathedral Trains. A wedding dress with detachable train can be convenient solution, but many wedding dresses expert providers can add a bustle to any train to ease your movement after that dramatic entrance! Again, as you can see in our photos, many of our gorgeous brides wore, to their destination beach weddings, wedding dresses with royal or monarch trains. The only thing you should be aware of is that if you walk over uneven surfaces as for example over the concrete floors, the train (or long veil for that matter) may get stuck a bit…
Trumpet style wedding dress without train by Allure Bridals
Sheath wedding dress with Sweep Train by Anais Annette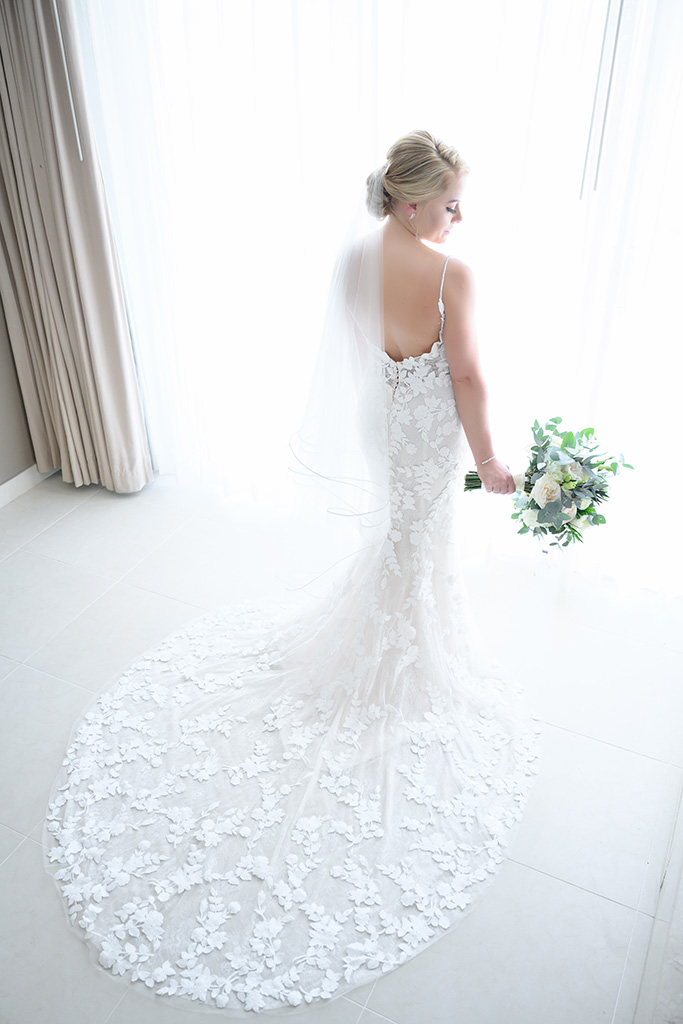 Wedding dress with Cathedral Train by Enzoani
Wedding dress with extra length Cathedral Train – Royal train by Essense of Australia
Wedding dress with extra length Cathedral Train – Monarch train by Essense of Australia
4. Headpieces
The most frequently used veils among our brides are definitively Mid-length and Cathedral Veils, followed by Blusher and Mantilla Veils.
Yes, there is a breeze on the beach, but also there are those tiny and very useful thingies called veil weights. You can buy them almost everywhere (from Amazon to Etsy https://www.etsy.com/market/wedding_veil_weights). They simply clip to the edges of your veil and give it just enough weight to stay straight and not fly about! Genius! Nonetheless, make sure you bring it up to your hair stylist (link na nas guide za MUA) to ensure your hair is structurally sound enough to hold it. But, no, you won't feel it pulling down and you won't feel it dragging your head.
Although, same as for the wedding dress train, long cathedral veil tends to stuck onto uneven surfaces, so put some attention at those details.
Mid-Length Veil and wedding dress by Hayley Paige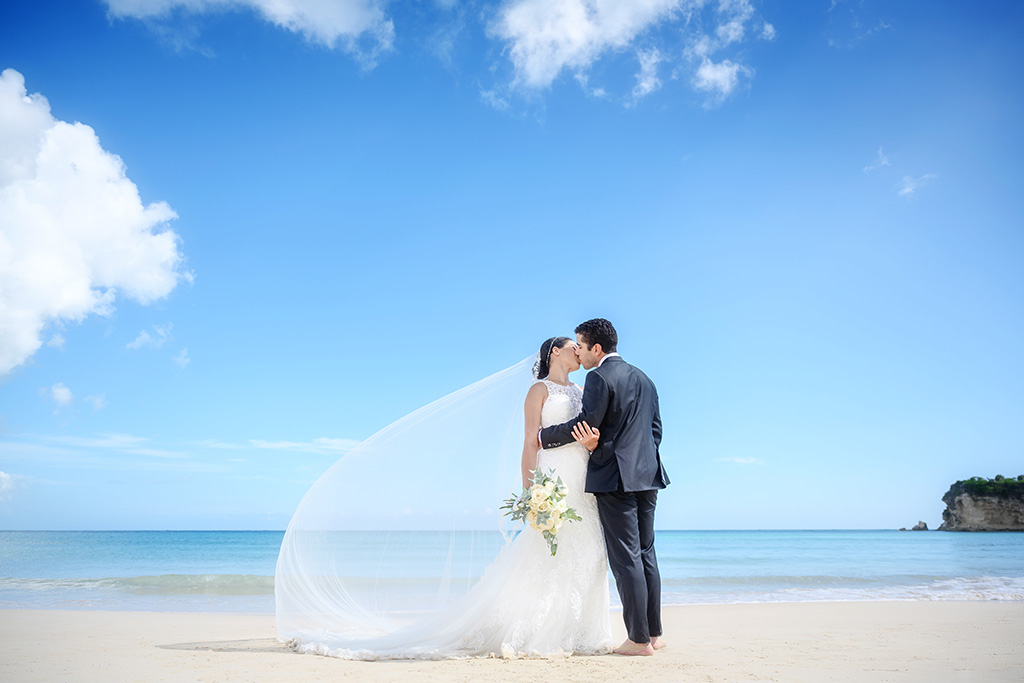 Cathedral Veil by Pnina Tornai
Cathedral Veil and wedding dress by Martina Liana
As for the choosing your wedding dress, the first thing to take into consideration when choosing your hair accessories is your personal style and the style of your wedding. The most popular are Combs and clips, Hair Vines and Headbands.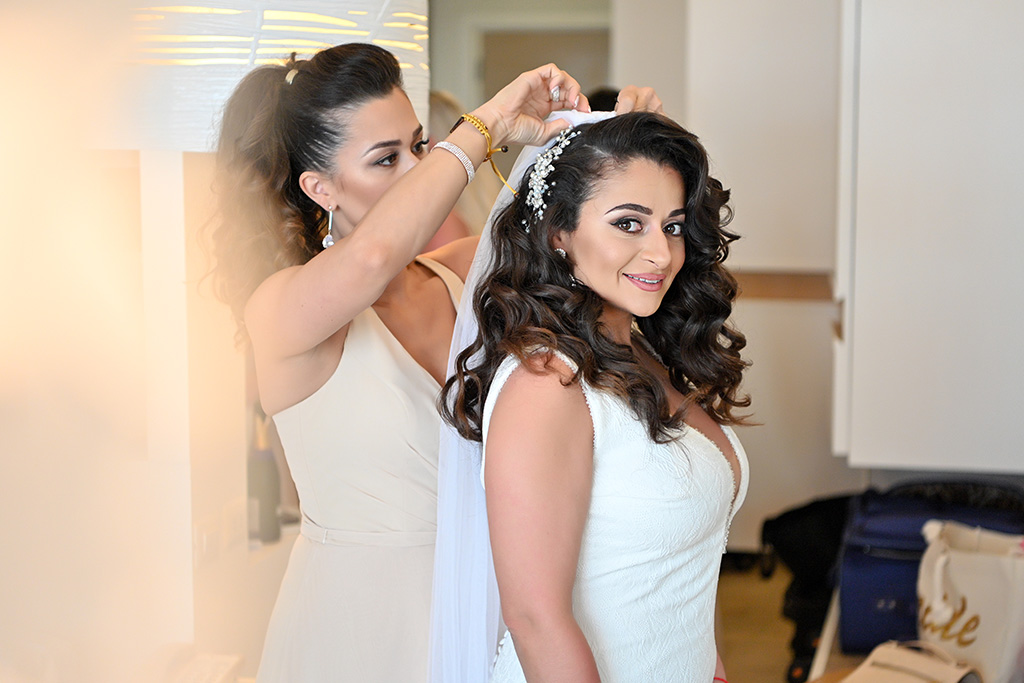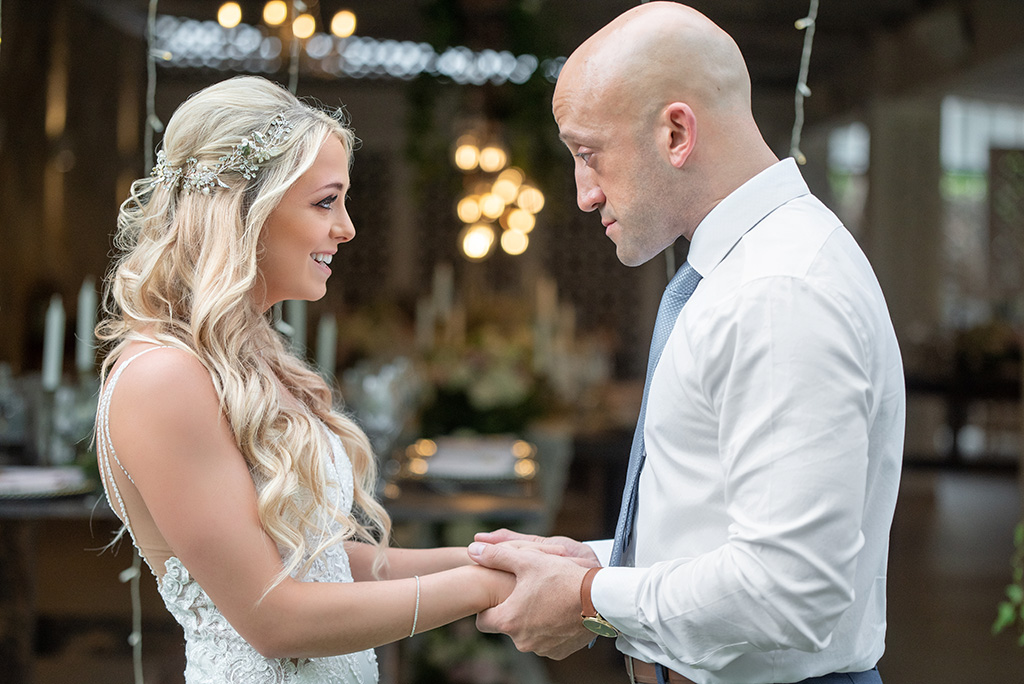 5. Shoes
One of the great advantages of having a beach destination wedding is that you can go barefoot with or without barefoot sandals, that were absolute hit recently. But if you prefer to go with awesome stilettos, you absolutely can do that too, just ask your wedding venue for a walkway option. Majority of Punta Cana destination wedding venues, if not all of them, have an option to add a walkway, so, absolutely yes, you can wear those Louboutin's that you are dreaming about for your beach destination wedding.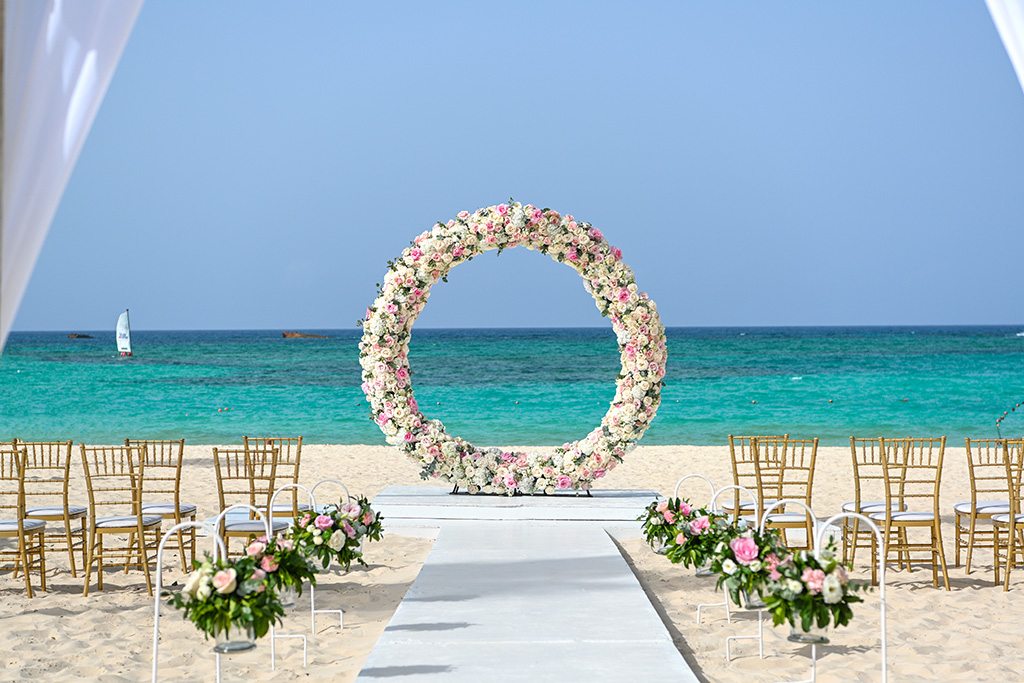 Walkway at Kukua Punta Cana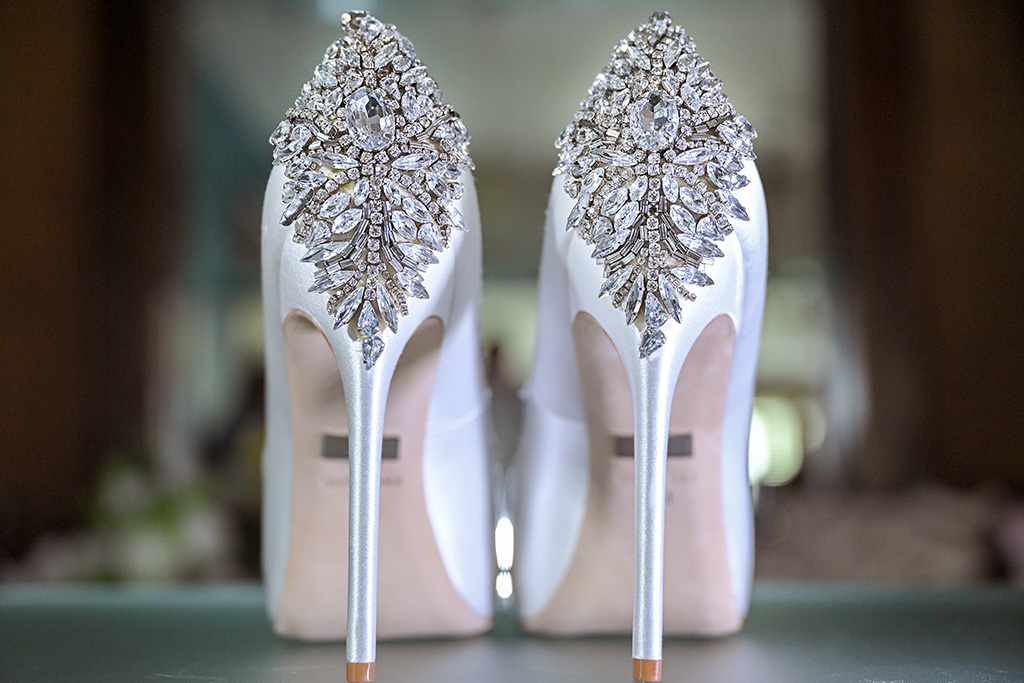 Badgley Mischka Bridal Shoes
Barefoot sandals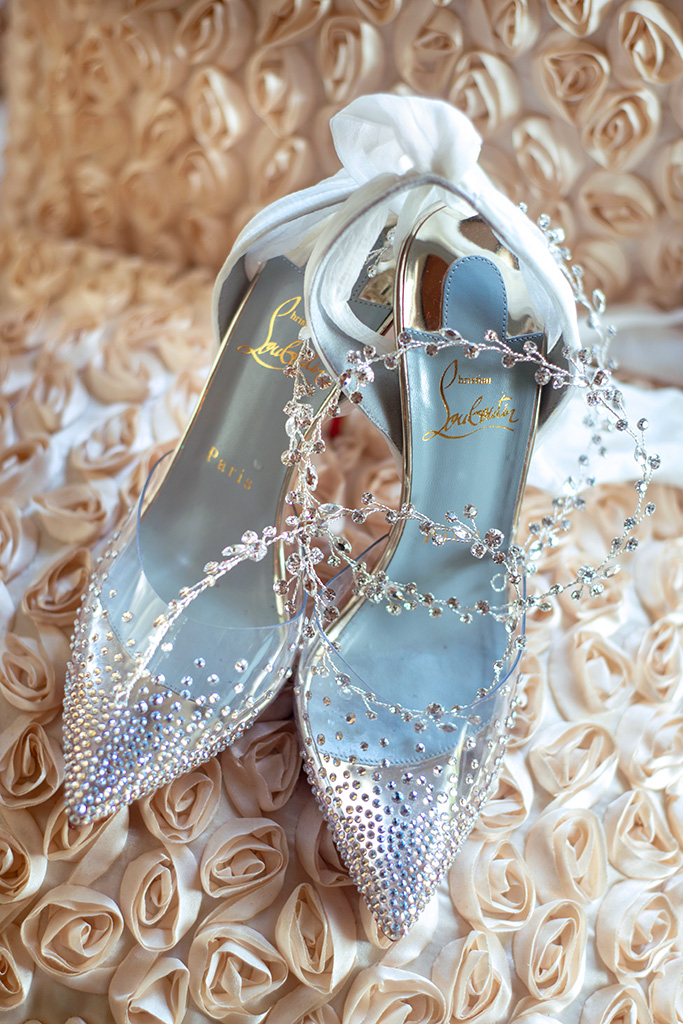 Christian Louboutin Bridal Shoes
We hoped that our experience has helped you somewhat in choosing that perfect wedding dress in which you have envisioned yourself walking down the aisle while gentle breeze is swaying palm trees and your love is waiting for you by the turquoise Ocean. The essence of this post is that the most important thing to remember is to stay true to yourself. Don't worry what anyone else thinks you should or shouldn't wear. It will be the most important day in your and your future spouse life. It is all about what makes you happy, beautiful and confident.
Here is a David's bridal quiz to help you discover the perfect Punta Cana destination wedding gown for you: TAKE THE QUIZ